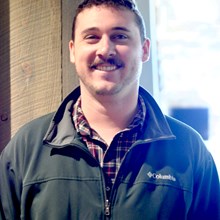 Ben Deininger; member since August 2015
CS: How cool do you feel to be the very first member spot light?
Ben: Pretty cool, I like the idea of a community within shared office space.
CS: What do you do?
Ben: Software Developer for Connexta, LLC. (not to be confused with ConneXion Spot)
CS: Why do you like to work from ConneXion Spot?
Ben: I work for a remote company and so it's either work from home or work from something like this. Working here is definitely more motivating than working from home.
CS: What do you wish we had at ConneXion Spot?
Ben: Food Trucks. That would be awesome.
CS: What's your definition of a coworking community?
Ben: A shared office space where you have the opportunity to collaborate with other people.
CS: Okay, here's the fun question, if tomorrow was dress like a superhero day you would dress like…
Ben: Oh, that's a hard one… there's so many good ones… uh, The Thing [from fantastic four] because no one else would dress like him.
CS: How would you manage to do that?
Ben: I'm not sure, probably paper mache.
CS: Any questions for me?
Ben: What superhero would you dress like?
CS: Oh, definitely batman.