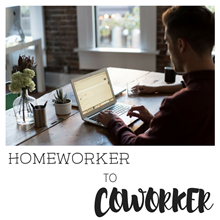 It's 8:03 in the morning and you're sitting in your home office. You just got done replacing your hand-me-down desk, chair, and shelves from your parents, and have now upgraded to sleek and clean furniture from IKEA. You think to yourself "alright, now that I have this great office, and comfortable chair I will be more motivated to get my work done. I am going to work from home." You open up your macbook only to see that you have a notification from Facebook. You stumble to click on your notification, but you decide it won't hurt you to check one notification before you start your work for the day. At that same time you get a notification that your best friend from college just liked your new profile picture and so you check on that, and realize that your photo has a blazing 92 likes! (Which is almost 100, and because it only took since last night to get all those likes you think why not just stay on facebook a little longer to see if I can hit 100 likes.) So you do, and while you're waiting you click on that buy/sell/trade facebook page to see if the girl from last week is posting any more furniture you can DIY for your bedroom. After all, we can't afford to IKEAify every room in the house. You keep scrolling and you see a wooden wagon for sale, and it's not that you even need it, but… it's only TEN DOLLARS and it needs to be picked up today, so you contact the lady selling it and it turns out she already sold it. So you go on Amazon to look for a wooden wagon that we already established you DIDN'T need; you find a wooden wagon for $25 dollars and because you have to spend $30 to get free shipping so you start thinking about all the things you've been needing. A phone case… headphones… maybe a new charging cable? Or a notebook for all the writing you're going to be doing, since you're working from home now. 3 hours, 47 minutes and $89 dollars later you realize you've done nothing in your new and improved office except for slack off. Why? Here's my theory:
Working from home can be great! You get to stay in your pajamas all day, you get to pet your cat whenever they nudge your leg, and you don't have to leave the comfort of your own home to take a conference call being held in your corporate office, but what if I told you that you're actually not as happy as you could be? Or as productive as you could be? AND that there is a solution close to you?
Let's go back to the question of why regarding the lack of productivity from your home office. I'll admit that the times I have worked from home, for the most part, it's been great! Until I start getting distracted by the laundry that needs to get done or a room that needs picked up. People are more motivated, more confident, and more focused when COWORKING! Ever heard of it? Coworking is the idea of a shared office space between freelancers, entrepreneurs, and remote workers who collaborate and build community with one another (70% of people feel more connected to others since joining a coworking space) and guess what?! There's a coworking space in Castle Rock… That's right you're on the website right now. It's called ConneXion Spot. A place to connect, get some work done, and collaborate. Don't hesitate, turn homeworker into a coworker and come check out what ConneXion Spot has to offer you today... Plus, you really don't need to sit on your doorstep to wait for that wagon to come, do you?
https://www.officevibe.com/blog/11-incredible-coworking-statistics-infographic
http://www.deskmag.com/en/first-results-of-the-new-global-coworking-survey-2015-16