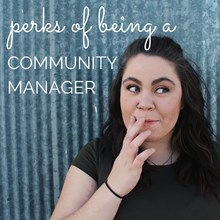 Throughout my 6 weeks of experience, I have numerous things I love about being a community manager. I am still learning and growing, but having this job definitely has its perks, and here's my five:
My job is talking.
If there's something I like a lot, it's talking, and not only talking, but having great conversation with others, especially members. No matter the time of day I know if I put my laptop down at the high top table, there's no doubt I spark conversation with a restless member, or curious visitor.


I get to plan events and get people excited about it.
Another thing I like a lot is being organized, and planning. I love to plan events and get people excited about what others are doing. Do you have an event you want our community to get excited about? SWEET! Email me about it, I want to know so that I can get the event on the chalkboard, community board, and social media.


I GET to wake up early every day
Waking up early is probably my best enemy. If I haven't had my coffee, chances are I'm not talking until 11am, but nonetheless waking up early makes me more productive throughout the day. Forcing myself to wake up early has helped me be more motivated to get more done.


Speaking of Coffee


Love coffee, and love teaching people about it! If I didn't work at ConneXion Spot I would probably work at a coffee shop making specialty drinks and countless amounts of coffee throughout the day as my job. Click

here

to learn how to channel your inner barista at ConneXion Spot.


Being an Eyewitness
And in all seriousness, probably my most favorite thing about my job, I get to witness all the collaborations and great ideas flowing through the ConneXion Spot. I love being able to chat about the growth in your businesses and what's happening real time.
In general, I LOVE my job, I love being a part of an entrepreneurial culture, and love being a part of what is happening here… no matter how many times I'm asked to make coffee throughout the day.
-Ashley Chapa